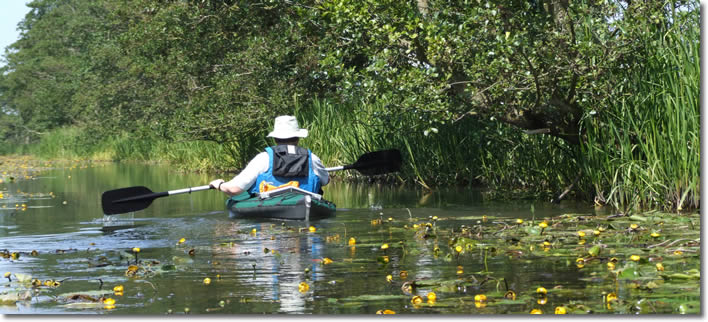 Paddling along the North Walsham & Dilham Canal in my Folbot Aleut.
Despite my Homer Simpson physique, the Aleut copes well, and is very stable, thanks to the internal inflatable sponsons (see below).
This is a very quiet backwater on the Norfolk Broads, just above Wayford Bridge. Powered craft are not permitted, so progress is very quiet through the unspoilt crystal clear water.

(the kayak in front is 'Toblof', a Folbot Super 17)
| | |
| --- | --- |
| Folding kayaks tend to be more stable than similar sized rigid craft due to the underwater cross-section, shown here. Folbot boats have internal inflatable sponsons (buoyancy tubes), that create a sort of 'gull wing' shape, as well as preventing the kayak from sinking if holed. The shape provides good 'tracking' (holding a straight line, rather than zig zagging), and greater stability than the more common rounded shape. | |
This photo of the interior towards the bows shows the inflated sponsons (green tubes just below the gunwales).

Modern folding kayaks like the Aleut are now made entirely from maintenance free materials, (plastic frames, aluminium tubes etc.)

Whilst not as aesthetically pleasing as varnished wood, it make them much lighter and easier to look after.
The Aleut is produced by Folbot, in the USA.

Length: 12 feet
Beam: 30"
Weight: 39lbs
Cockpit size: 46" x 20"
Maximum Payload: 250lbs

It folds (in a few minutes) into two bags:

10" x 10" x 53" (paddles, longerons,coamings)
21" x 27" x 9" (one piece skin, frames)

I weigh 95 kg and I'm 5'6" tall, and it's the smallest practical 'boat' that can get me comfortably afloat and yet still be carried easily and stored at home without taking up excessive space.

Although very expensive when compared with other 'portable' boat/canoe choices, folding kayaks offer a very good compromise of usability versus storage/transportation.

Folbot have a very good website, and the Aleut page can be found at: http://www.folbot.com/aleut.html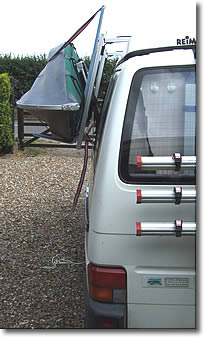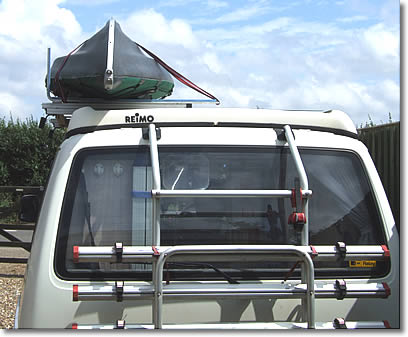 Folding Kayaks can also be transported ready assembled of course, and these photos show the Aleut on a VW camper.
Even though it has a 'low lie' folding roof, it's still too high for me to lift the kayak on, so I fitted a special Reimo roofrack that folds down for loading. The left hand photo shows it in the loading position, which I can easily reach single-handed. Then, when the Aleut is tied down, the carrier lifts up and over, to lie flat on the roof.