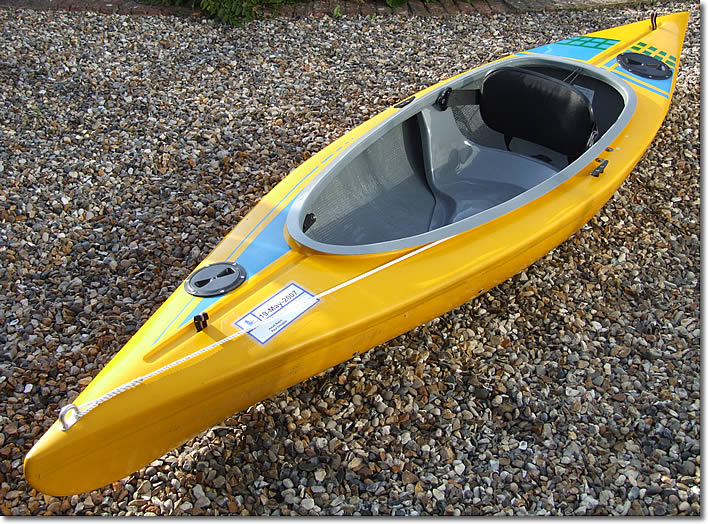 I bought this (unknown make) from my local boat auction, at Horning. I was attracted to it because it was so small, yet quite beamy, and with a large cockpit. (Not so much claustrophobia, as worrying about getting stuck during an involuntary Eskimo roll....)
It was in very good condition, though devoid of any of the extras shown here. I added a couple of Holt dinghy inspection hatches to access the bow and stern built in buoyancy compartments, and give some simple dry stowage.
I find most standard kayak backrests very uncomfortable, (and this one didn't even have one), so I added the plastic backrest of a typists chair, suspended by 50mm webbing and shockcord to keep it 'floating' in place. It's now much more comfortable.

The outside of the kayak was self coloured yellow (a little garish, but a safe colour).

I painted the bare fibreglass inside with International 'Danboline', a very hardwearing paint available from Chandlers for painting bilges which needs no primer or undercoat.
| | |
| --- | --- |
| This photo, taken from the stern, shows the adjustable footrests under the foredeck, (there were none). | |