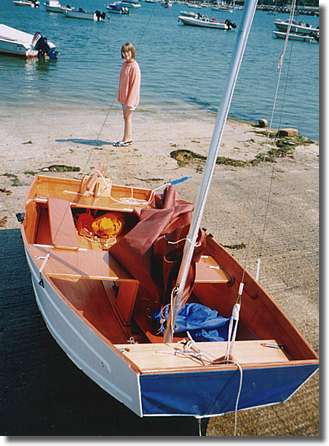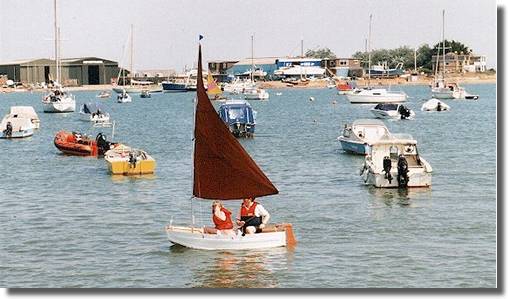 Maiden voyage in Bembridge Harbour, Isle of Wight, August 1995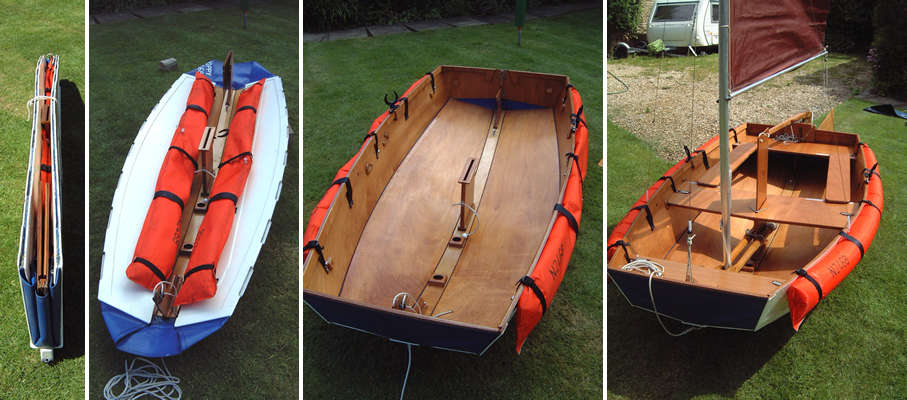 This sequence of four pictures shows the transformation from folded to ready for the water. Starting off at 5" wide, the first unfold reveals the external bouyancy tube/fenders, which though deflated, can remain attached. (I added two additional webbing straps, making 5 per side).
The third picture shows the stern and bow plates holding the main gunwales apart. (Notice the 2 mast step positions in this shot, allowing the dinghy to be balanced with main and jib, or mainsail only.)
The fourth picture shows the completed boat, ready to sail.
my DIY modifications

An elasticated net under the foreward thwart stops bags from rolling down to the bilges. It's fixed under the thwart, and clips onto the hog, so that it doesn't interfere with the folding.

Miniature fairlead/jamb cleats to hold the jib sheets. They fitted very neatly on the existing rowlock mounting pads.

Two stainless steel uBolts, mounted back-to-back through the keel (sealed with resin), enable the padlocking of an outboard onto the dinghy, and the padlocking of the dinghy to a roof rack. (agreed, neither would stop a determined thief, but at least it stops someone just walking off with them...)

Centerboard slot gasket, (not for racing efficiency !, but to stop water sloshing up the inside of the case when under outboard power and the board has been removed.)

I fixed it with a custom made alluminium strip (just on one side).

This picture also shows the self-adhesive pvc keel bands to protect the bottom of the boat, whether folded or not. (You can't use screw fixings here because of the pvc hinges on the other side of the ply).

A shock cord loop through the centre thwart to rest against the front edge of the centreboard, to retain it at any height. (Notice also the marking on the board, to indicate up/half/down.)

Another shock cord loop with plastic bead to retain the oars down the centre line of the boat, but ready for immediate use.

I keep the sailing gear (mast,gaff,boom,sails) and oars in an angler's rod bag.
Shorebase/Boats visitors since June 1997

©2004 Shorebase