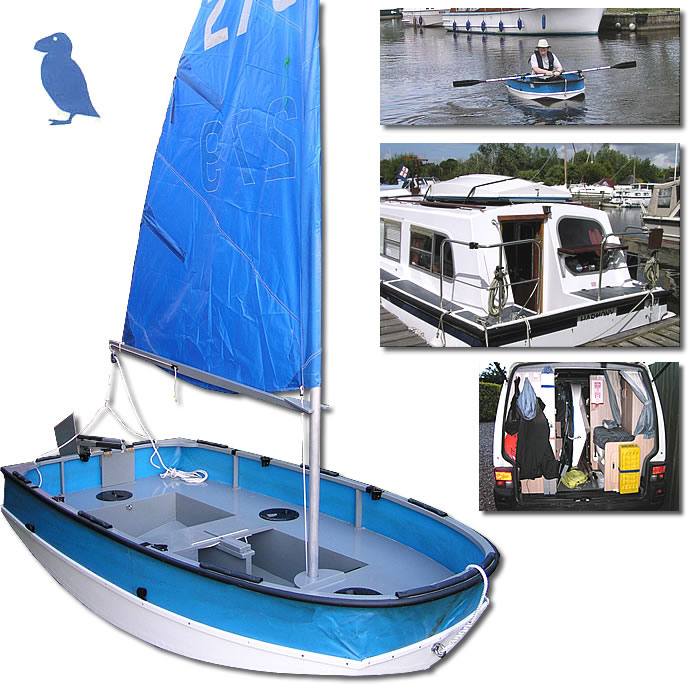 The 'Puffin' was designed in the 1960's by Barry Bucknell and supplied by Polycell Prout, of Canvey Island, Essex. It was available either ready built or in kit form, with a Hull made from glassfibre, or plywood.
She was built like a smaller version of the Mirror Dinghy, the wooden versions being constructed via the same 'stitch and glue' technique, which required no frames, and was very simple for amateurs.
Equipped with a dagger board, rudder and 30sq ft sail plan, she could be sailed, rowed or powered by a small outboard motor.

I was lucky enough to find one for sale on eBay from the family of the original owner, so it was absolutely complete, even with the original documentation and instructions. As the photos show, it was in very good condition for it's age, with no signs of any rot or decay.
I carefully removed all of the fittings and 'skirt' from the hull and scraped all of the paint off with a hot air gun.

I then reinforced all of the seams with new 2" glassfibre tape and epoxy resin.

The hull was then treated to 3 coats of International primer, two coats of Pre-coat undercoat, and finally two coats of Trilux top coat.

I sanded the deck and inside and painted it with three coats of grey 'Danboline' bilge paint, which I find covers well and is very hard wearing.

Four RWO inspection hatches were fitted to the buoyancy compartments to enable inspection and also allow simple dry stowage.

The original PVC topsides 'skirt' was refitted, with a new rubbing strake.

This photo shows the simple flexible tiller extension, a length of 22mm plastic water pipe tied loosely to the tiller with 6mm bungee cord, with shrink sleeve tubing as a grip, and a clip to hold it in place along the top when not in use.

(Ok, so you're not going to 'sit-out' such a small dinghy, but it's essential to sit well forward when solo !)

Also visible is the rear rowlock for sculling.

The original mast arrangement is very simple, the bermuda sail being set on a two section aluminium unstayed mast.

This is stepped in this simple socket arrangement.

All of the sailing kit can be easily stowed within the boat.

I fitted two sets of rowlocks to enable rowing from the centre or bow seats, depending on the load.

When used as a tender to my Hampton Safari, the ability for the hull to be collapsed to half it's height allows it be stored on the cabin roof without being too obtrusive.

She goes well with the electric outboard, as long as I sit in the centre of the boat, (I'm a foot too short for my body weight). The Minn Kota drives her along at up to 5mph, in complete silence.

(The tiller extension is a piece of 1.5" waste pipe shaped with a hot air gun to fit the twist grip.)

The original 1960's brochures (click any page to view it in a larger window).
The original 1968 pricelist....

(remember though, an average week's wages was about £20 in those days ! )