| | |
| --- | --- |
| 'Helga' | a home-conversion on a VW Type 3 turbo diesel |
DIY Conversion Details

The windows were cut out (very carefully!) with an electric jigsaw.

The problem is that the fixed rubber trim windows needed very accurately cut holes or they either wouln't go in, or they would fall out. There's a tolerence of about 3mm. To achieve this, ready pasted wallpaper was cut out to the exact sizeof the hole, then 'slid' into the correct place. Apart from the ghastly pattern, it also enables you to judge their placement within the main panels. Then the outside of the cut line is masked with newspaper to avoid the soleplate scratching the paintwork.

This was one of the worst stages of the conversion as you have a panel van with gaping holes in it....

The glassfibre 'high-top' was fitted by Sheldon Hightops of Acocks Green, Birmingham for just over £800. For that price they cut the roof opening (leaving both of the main reinforcing hoops in place), and siliconed the roof in place.

I cut the small sliding window holes using the same technique as above.

It then had to be insulated and lined. Wooden battens were resined into place and then fibreglass insulation was held temporarily in place by zig zags of fishing line, then covered by carefully fitted 4mm marine ply panels.

These were then covered with special cord trim material from QB auto camp of Swindon. It's important to use the correct fabric rather than cheap cord carpet, as it can be stretched correctly into place. (no rubber backing).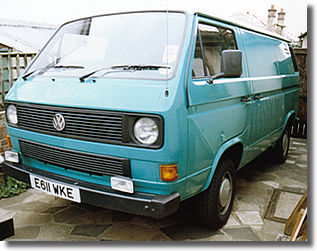 'Helga' was a DIY motor caravan conversion of a 1988 Volkswagen Transporter T3 turbo diesel van.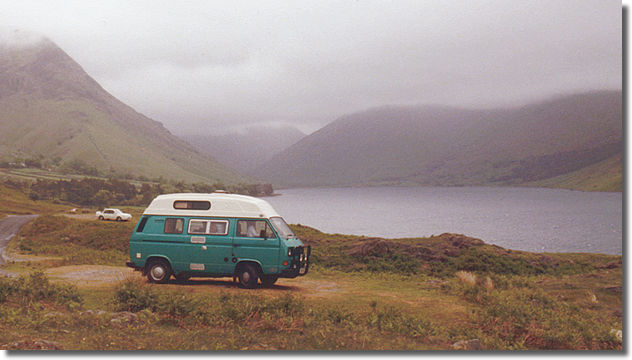 WastWater, Lake District, 1991
[Home] [Boating&Canoeing] [Caravanning & Touring] [Photography] [Norfolk Broads] [Web Development]